"When experiences are traumatic, the neuro-pathways getting the most use are those in response to the trauma; this reduces the formation of other pathways needed for adaptive behavior. Trauma in early childhood can result in disrupted attachment, cognitive delays, and impaired emotional regulation." Bruce D. Perry (1955 – ), M.D., Ph.D. and Senior Fellow of the Child Trauma Academy in Houston, TX.
When I was about a year old, my Mom took me to the doctor because I had a fever and a sore throat. Minutes after the nurse gave me a shot of penicillin, I went into anaphylactic shock – a near-death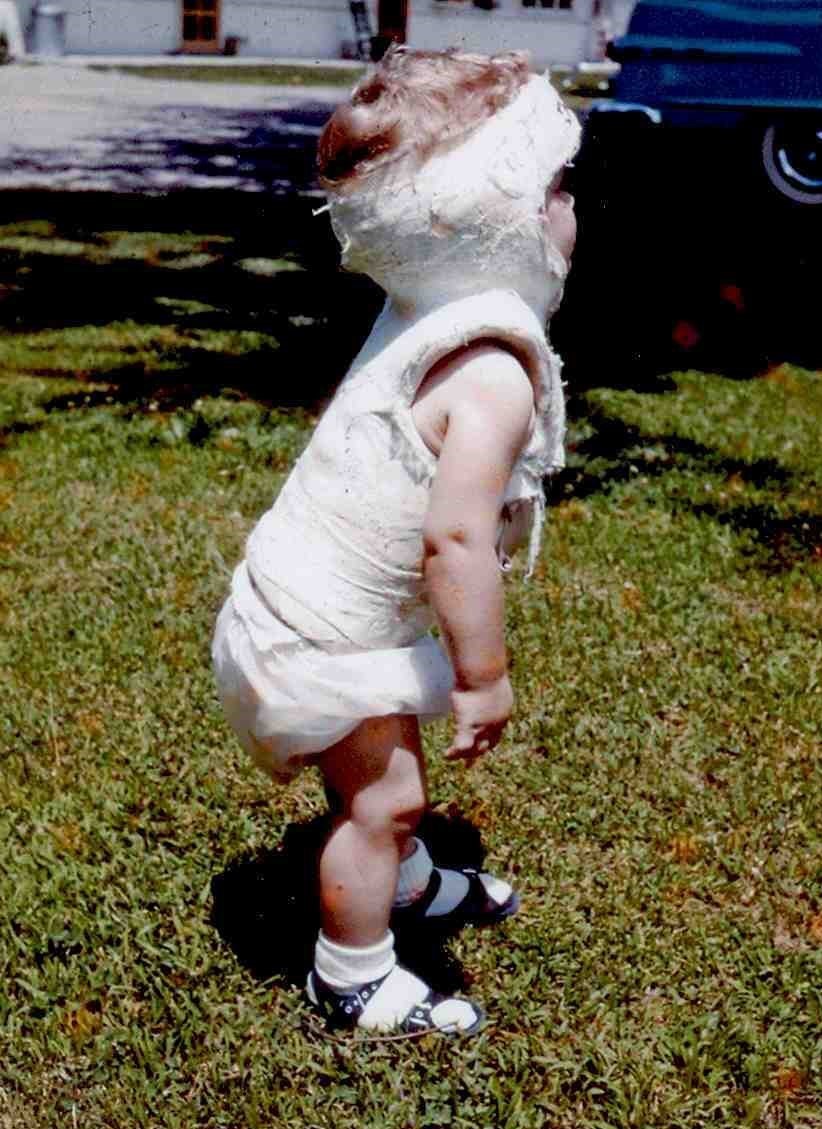 experience – and was saved by another shot – adrenalin. It was the first time the world knocked me down and I got back up.
I took a second knock less than a year later. At 20 months, I was riding my tricycle on the sidewalk under Mom's watchful eye. I wasn't doing anything foolish, but one of the wheels slipped off the pavement and I flopped into the grass. I cried briefly, was consoled by Mom, then got back on my trike and rode on.
The next morning, I couldn't stand up in my crib. I was diagnosed with a broken neck, and I was encased in a cast from my waist to the top of my head. A day later, we returned to the doctor to remove the lower edge of the cast, so I could move around more easily, and I was up and running as usual. I wore the smelly thing for six weeks, followed by a heavy-duty neck brace for three months.
Mom and Dad would periodically recount how painful it was to watch me fight to escape that itchy body vise, their relief when the adrenalin kicked in, and how the setbacks didn't slow me down.
My stamina to overcome these difficult experiences, bolstered by the recognition I received from family and friends, morphed into a survivalist's attitude and approach. I became proficient at figuring out ways to break through barriers, engage adversity, and achieve goals. My forthright behavior served me well during my school years but limited my effectiveness when I entered the work world, learned I was impaired in the subtlety department, and struggled to adapt and expand my skills to make a meaningful and lasting difference.
All things considered, I've learned difficult events in early childhood have an inordinate influence on your internal programming, beliefs about how life works, and resultant behavior patterns. As you mature and go-to behaviors no longer serve you, it's your responsibility to replace the imbedded code with beliefs that mesh with your new surroundings.
"I was diagnosed with a broken neck, and I was wrapped in a cast from my waist to the top of my head."